Welcome aboard !
Monterey-Salinas Transit (MST) provides bus service to the greater Monterey and Salinas areas, as far south as Paso Robles and Big Sur and as far north as Santa Cruz and San Jose. Service originates from two primary locations–the Monterey Transit Plaza, in downtown Monterey, and the Salinas Transit Center, in downtown Salinas. From these locations, the bus lines branch out like spokes on a wheel. The MST website offers a wealth of information to assist you with transit ride:
Tips & Tools
Bus Schedules & Routes
Rider Alerts
https://mst.org/riders-guide/how-to-ride/overview/
MST GoPasses, GO Cards and Rides Tickets Books
Monterey-Salinas Transit makes it easy for you to smart commute by offering MST GoPasses, GO Cards and Rides tickets books. You can buy a one day pass to try it out, a seven day pass and ultimately a 31 day pass if you enjoy the benefits of not having to drive your daily commute. They can be brought on-line at https://mst.org/store/ or by calling 1-888-MST-BUS1 (1-888-678-2871). GoPasses are also available at MST Customer Service locations and pass outlet locations throughout your community. Here's the link to find the nearest pass outlet near you: https://mst.org/fares/passes/pass-outlets/
MST RealTime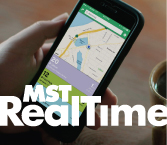 Bus arrival information
at your fingertips
Gone are the days of wondering and worrying when your next bus arrives. MST RealTime – is real easy.Using Text, Phone, App or Map – get real-time information about your next bus! 
https://mst.org/riders-guide/realtime/.
 Help Planning your Smart Transit Commute Trip
 If you have any questions or would like help planning your Go831 smart commute trip, call Monterey-Salinas Transit toll free at 1-888-MST-BUS1.